I Appreciate your Referrals!! Always Get 1/2 off your next massage when you refer a friend.
Discover Wellness with Regular Massage
Experience the sublime wellness that regular massage with an expert therapist can provide. Enjoy better health with your Personal Wellness Plan and create a Family Plan to share so everyone in your home may benefit.
Choose Your Wellness or Family Plan Now!
• Plans with 2 or more may be shared with family members.
• Schedule or re-schedule at your convenience.
• Easy monthly payments.
• Purchase gift cards and more massage at your monthly rate.
• Consider integrating with coaching or workshops.
• Unused services carry over for one month.
• May occasionally be shared as a gift certificate.
• 5 month minimum participation.
Not sure if a Wellness Plan is right for you? Call for a free consultation to see if Family Wellness is a good fit.
Prepaid Series
Enjoy your wellness commitment at the most cost efficient rate with a prepaid Series that you may want to share!
Combination Packages
Coming Soon!! Packages will be offering massage combined with add-on options like Reflexology, Energy Chelation & Brain Balance
---
While in massage school, I learned and experienced how much more massage can do beyond simple relaxation and pain relief. In caring for my disabled parents and sister the past several years, I'd gradually neglected my own "self care" and forgotten what it really felt like!
When I renewed my commitment to my own health, I resumed getting regular massage a few months ago, and again, experienced the many benefits regular massage provides. In addition to stress relief, my sleep improved, immune system's much stronger, and peace in my spirit, - there's too many benefits to list now, so you can see more on my web site here. Benefits of Massage .
Remembering how important it is to wellness on so many levels, I want to share with everyone I know. So I added "Wellness Plans," "Client Rewards," and "Series" packages.
---
Gift Certificates Available
Buy elegant gift certificates individually at my standard rate or choose packages and save up to 20%. You may give them to one special somebody or share them with your family and friends. Extra time may be added when redeeming, for an additional fee.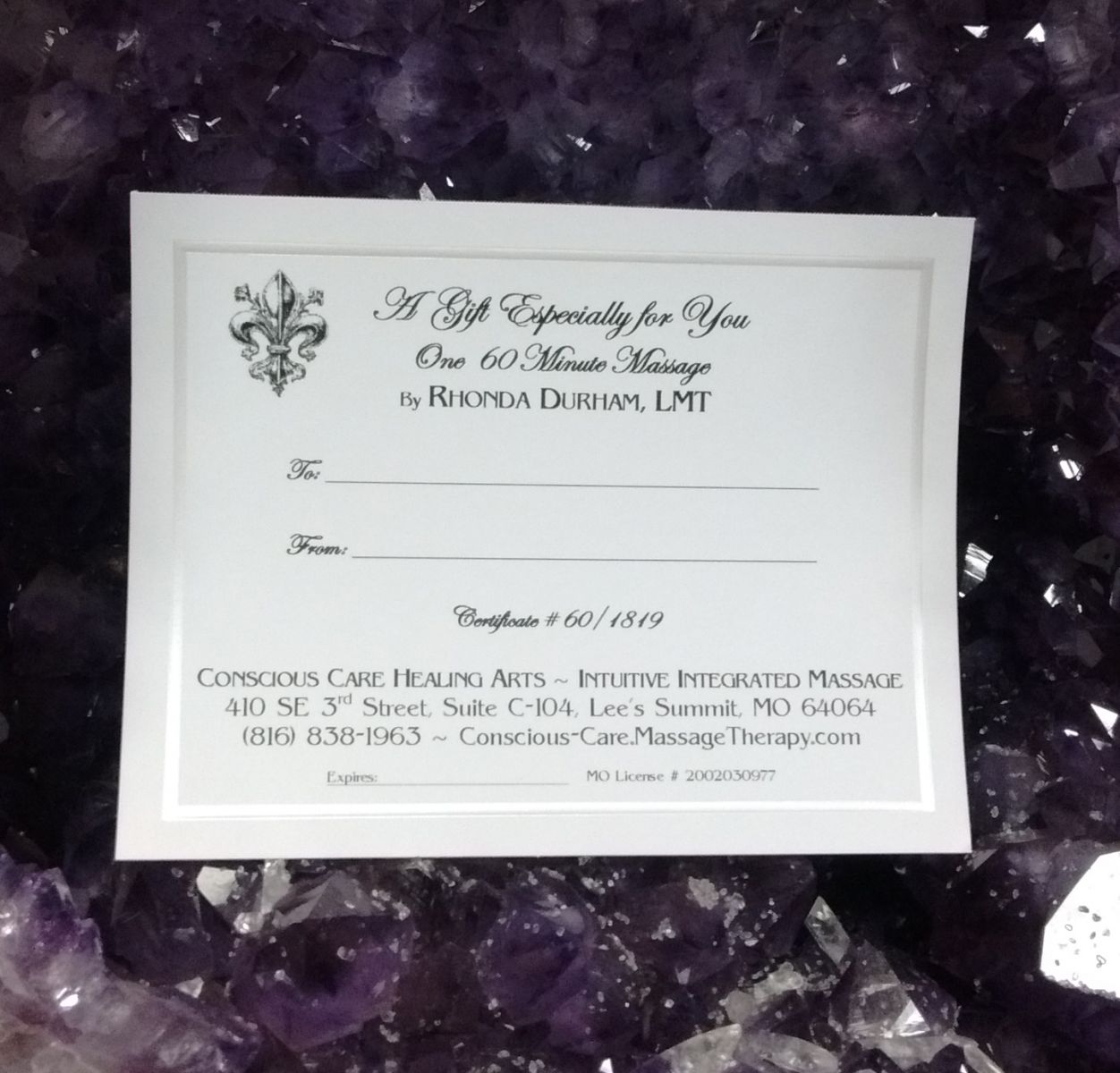 Reflexology or 30 Minute Massage = $45
Treat yourself to 30 minute massage OR Reflexology packages.
Chair Massage 20 min = $30
If you don't have much time and need focus on neck, shoulders, back, hands and arms then a quick Chair Massage may be just the fix. If you have difficulty lying down then Chair Massage could be an ideal alternative. (longer sessions available by request)
Intuitive Healing Arts = $125
Clear, energize, and enhance natural healing mechanisms by working with the body's energy flow to stimulate organs, relieve pain and increase relaxation. Based on Chinese Meridian, Reflexology and the Chakra system. It's especially useful for those too tender to touch and is performed fully clothed and mostly hands off.